Ariel Oliver
Head Coach - 15 Emerald Coastal
Ariel Oliver has coached volleyball for over 9 years, and she has been a member of our coaching staff since our inaugural year. Not only has Ariel served as a coach for PAVC, but she has also coached volleyball during her time as a teacher at Yates High School and Marshall High School. She is currently coaching at Westbury High School. Ariel has been teaching for over 10 years. She has a Bachelor of Arts degree in History from Lamar University, and she also minored in political science. She has taught 8th, 9th, 11th, and 12th grade students in the following subjects: 8th grade US History, World Geography, AP Human Geography, Sociology, and AP Government. As a player, Coach Ariel served as a member of her high school team, and she participated as a member on her college's competitive intermural club team. As a coach, it is evident that Ariel has a love for the sport of volleyball. She shares her love of the game with our players through her positive and encouraging coaching style. Ariel is passionate about working with the youth to help them achieve their goals in both academics and athletics.

Brookeyln Francis
Programs Assistant Coach
Brookelyn has been an athlete since an early age. She has played volleyball for both her high school and PAVC as a defensive specialist and setter. She also served as an assistant trainer for her high school. Brookelyn will be studying kinesiology/exercise science while attending college. Brookelyn loves the sport of volleyball and is excited to share her passion for the sport with PAVC players.

Savannah Hall
Head Coach - 14 Green Local

Savannah Hall began playing school and club volleyball in middle school. She played for varsity in high school all four years and played club for Southwest Juniors Volleyball Club as an outside/opposite and defensive specialist. She was recruited to play collegiate by University of Texas at Arlington, where she played for two seasons as a DS/Libero. Her junior year of college she transferred from UTA to Texas Southern University to complete her Bachelor of Science in Kinesiology and Health Studies degree. She has one year of previous coaching experience with Houston Juniors Volleyball Club while finishing her undergrad. Currently, Savannah is pursuing a Doctorate degree in Physical Therapy. Savannah is excited about joining the PAVC staff and to continue to share and express her love for the game!.

Kara Johnson
Head Coach - 14 Emerald State

Kara started playing volleyball in the 7th grade. She went on to play both volleyball and soccer at the club and high school level. She played for Precision her 17s year of club and is very excited to be back as a coach. Presently, she is majoring in Biomedical Engineering at the University of Houston. Kara is super excited to share her passion for volleyball here at PAV!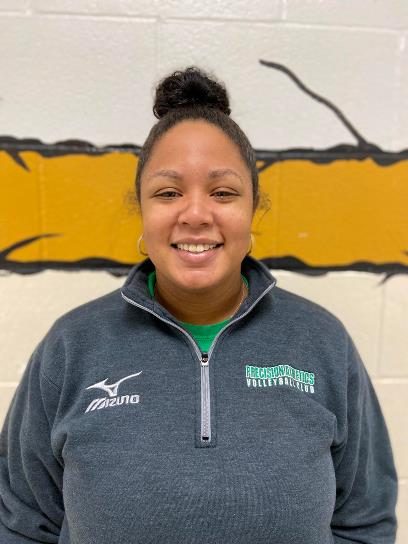 Krysten Lovelocke
Head Coach - 17 Emerald Coastal
Krysten played volleyball in middle school and high school, and she also played adults recreational volleyball. She received her Bachelor's Degree in Interdisciplinary Studies from Prairie View A&M University. Presently, she teaches 7th grade science and coaches volleyball, basketball, and track & field at Wharton Junior High in Wharton, TX. She has two years of experience as an assistant coach at Calvary Lutheran School in Kansas City,
MO, one year leading a local, developing volleyball team at Texas One Volleyball Club, and currently, she is the head coach for Wharton Junior High's 8 th Grade A-team. Krysten enjoys working with youth and helping them reach both their academic and athletic potential.