Precision Athletics Volleyball Club Staff
David Kounlamith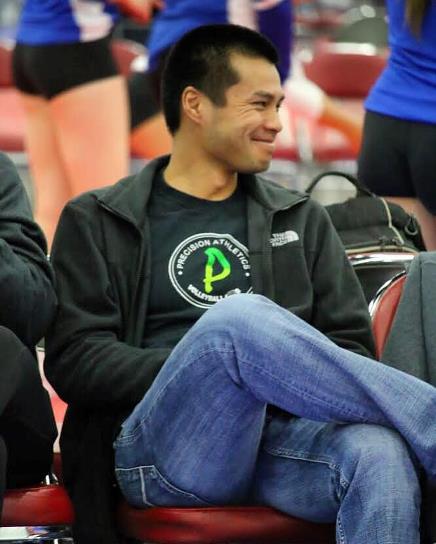 Owner - Director of Athletics Performance
David started Precision Athletics Volleyball Club with his wife, Cara Martin-Kounlamith, with the sole purpose of providing a volleyball program that is committed to the overall success of the athlete in the sport. He also owns Precision Athletics & Wellness which helps both athletes and non-athletes alike aquire services to enhance their overall health. His passion and desire to help others is seen in both his career and personal life.

David's volleyball coaching career began in 2000 while working with Lake Norman Club Volleyball. He continued his career with Carolina Storm Volleyball Club in Concord, North Carolina where he was both a head coach and the Director of Athletic Performance. After moving to Texas in 2013, he continued coaching multiple teams as well as running both the club program and athletic performance training programs as the Director of Athletic Performance at Texas One Volleyball. Moving back to North Carolina in 2015, proved to reignite his desire to start his own club with his wife. Precision Athletics Volleyball Club was developed from this passion and operates on the idea that every player develops both the skills and passion that David and Cara share for the sport.

David is certified in Personal Training through the National Academy of Sports Medicine. He has provided Personal Training services in both a group and individual setting for over 7 years. David obtained his degree in Massage Therapy from Southeastern School of Neuromuscular Massage in 2008 and is skillful in various areas of Massage Therapy. He specializes in working with athletes and those recovering from injuries. David is also a certified nutritionist through Precision Nutrition. David has experience working with beginner to advanced athletes of all ages.
Cara Martin-Kounlamith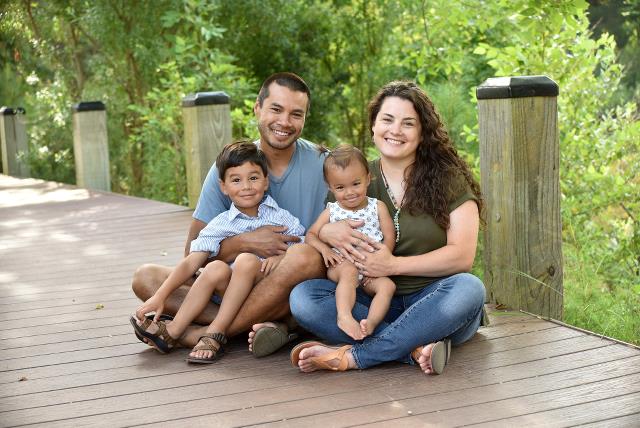 Owner - Administrative Director & NC Club Director​
Cara has a Masters in Social Work and Play Therapy. Although her passion and career have led her to work in social services with various populations, she also has a successfull history of managing and operating buisnesses. Cara has worked with many populations and all age groups in each aspect of her career. Her goal is to provide top quality customer service in every aspect of Precision Athletics Volleyball Club.

Cara has played volleybal for 15+ years, including time at Appalachian State University in which she won the National Championship while playing for the National Club Volleyball Team her senior year. Cara began coaching at Carolina Storm Volleyball in Concord, North Carolina shortly after graduating. She continued coaching after moving to Texas in 2013 for Texas One Volleyball Club where she also served as the Assistant Director. Like her husband, her love of volleyball has led to the desire to begin a club volleyball program in both the North Carolina Region and the Texas, Lonestar Region.
Tiffany Jones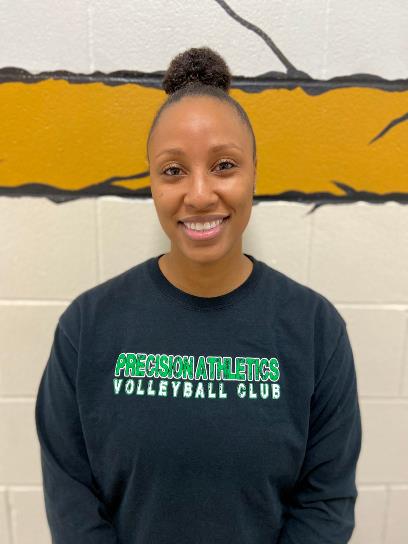 Texas - Satellite Club Director​
Tiffany Jones has a Masters of Arts in Communication Studies from the University of North Texas. She has a love for education, and it was that appetite for learning that led her into her career as a teacher. Tiffany has been teaching in the college classroom and acted as an advisor since 2011. She is a current faculty member at Wharton County Junior College. She takes pride in teaching her students the academic and practical applications of what they learn in her classroom. It is her hope to educate them and to teach them how to be critical and active members of society. The same passion she has for education and being in the classroom is akin to that passion she has for coaching her volleyball athletes.
Tiffany has been an active athlete since she was 4 years old, and she participated in sports through high school and into college. Growing up in a small town, she had the opportunity to participate in many sports competitively. She was active in softball, soccer, track and field, volleyball, basketball, twirling, and cheerleading. As a lover of sports, coaching has allowed her to share her passion for athletics. She began coaching while in high school by assisting her cheer coach with elementary to middle school aged cheerleaders. This is when Tiffany learned she loved to help others develop their athletic talents. She was an assistant youth coach for Start Caring Wellness, Inc. from 2006 – 2007. In 2009, she began coaching and judging cheerleading with Spirit Event Coordinators. In 2010, Tiffany began her volleyball coaching career as an assistant coach with Hurricanes volleyball club in Dallas, TX where she coached for one season before joining SLAM Volleyball Club as an assistant coach for the following two seasons in Plano, TX. She moved to Houston, TX and joined Texas One Volleyball Club for three seasons as a head coach and interim program leader before joining the Precision Athletics Volleyball Club family.
Tiffany began serving as the Director of PAVC TX in the fall of 2016. She is excited to be a part of Precision Athletics Volleyball Club as its Texas Director, and she feels blessed to share her passion for sports with the youth in her community. It is her goal to fulfil PAVC's mission of focusing on individual player development and teamwork skills in a positive and supportive environment. She believes that her athletes will learn valuable life skills like teamwork, mental toughness, self-discipline, sportsmanship, trustworthiness, how to face adversity, and how to embrace pressure in high stress situations. Tiffany's belief that the court can provide young athletes with life lessons is one of the many reasons why she loves coaching.
Megan Baranko

Director of Recruiting & Administrative Assistant
Megan earned her B.A. in Liberal Studies with a Concentration in Spanish and Child/Family Studies from Greensboro College in 2016. She has a passion for helping others and having a positive influence on the next generation. As the Recruiting Director at PAVC, Megan's goal is to guide our players through the recruiting process and help them find a collegiate program that they can call home. As the Administrative Assistant, Megan handles all social media and graphic design for the club.
Megan has been involved in athletics since age 3. Back in her home-state of Pennsylvania, she played soccer, basketball, and eventually picked up volleyball her freshman year of high school. She played club volleyball at Crosscourt VBC in Bethlehem, PA. Megan was recruited to play and decided to continue her athletic career playing DIII collegiate volleyball at Greensboro College in North Carolina. She was a 4-year starting middle blocker and served as captain her senior year at GC.
Megan began coaching in high school as a volunteer at the Special Olympics soccer games as well as working with the youth soccer program that her mother founded. As her love of volleyball continued to grow at Greensboro College, she found opportunity to influence young athletes in the Piedmont-Triad area. She began coaching volleyball after her freshman year at Greensboro College with summer camps alongside GC's head coach. She then moved on to coaching club ball for Piedmont Volleyball Club in Greensboro. Megan continued coaching summer camps and was able to work with various programs that include NC A&T Volleyball, Elon Volleyball, and Catawba College Volleyball. When Megan re-located to Charlotte, she connected with Precision Athletics Volleyball Club and has been coaching with them since their first season in 2016. She has also held coaching positions at Charlotte Latin Middle School and Lake Norman High School. She is currently the Head Coach at West Charlotte High School.

Outside of PAVC, Megan owns Union Street Nutrition in Downtown Concord, NC.
The moment Megan stepped foot into a PAVC practice, she knew that this was a program that she wanted to help grow. She believes in the PAVC mission and devotion to its athletes. From part-time coaching to now also serving as the full-time Recruiting Director and Administrative Assitant, Megan hopes to continue to grow with her PAVC family.